The Hailey Niclaus Fund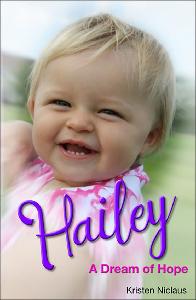 Total Number of Gifts: 2
Total Value of Gifts: $95.00
Please bookmark this page.
Recent Donors
Jessica Miller - $60.00
Renee ONeill - $35.00

Full Donor List
About Hailey
Our beautiful daughter Hailey Niclaus passed away December 6, 2014 at the age of 3 from AML. She was a strong, brave little warrior. She lit up the room with her spunky and devious giggle and sparkling blue eyes. She impacted so many people and changed their lives in the short time she was here on this earth.

We want the world to know how amazing she was. I knew I never had the strength to start a foundation in her name, but we wanted her name and memory to live on, and Hope & Heroes has helped make that happen.


Hailey: A Dream of Hope
Our book, Hailey: A Dream of Hope, is about our battle. No child or family should ever have to go through this battle. Unfortunately, many do — too many. The book started as posts on the Caring Bridge website to keep family and friends updated on Hailey's progress. It turned into something bigger than that.

A portion of the proceeds from my book will go to the Hailey Niclaus Fund at Hope & Heroes. Hope & Heroes funds research and programs that support these children and their families. Childhood cancer research is underfunded. There can never be enough money to find cures for these deadly diseases. Even when children survive, the long term effects of treatment are often a lifetime battle. We need to find cures so families like ours aren't left broken-hearted.

Thank you for helping us help other children and families.

Guest Book
If you would like, you can add your name and a short message to our Guest Book. Thank you.

Sign the Guest Book
---
If you think this page contains objectionable content, please inform the system administrator.