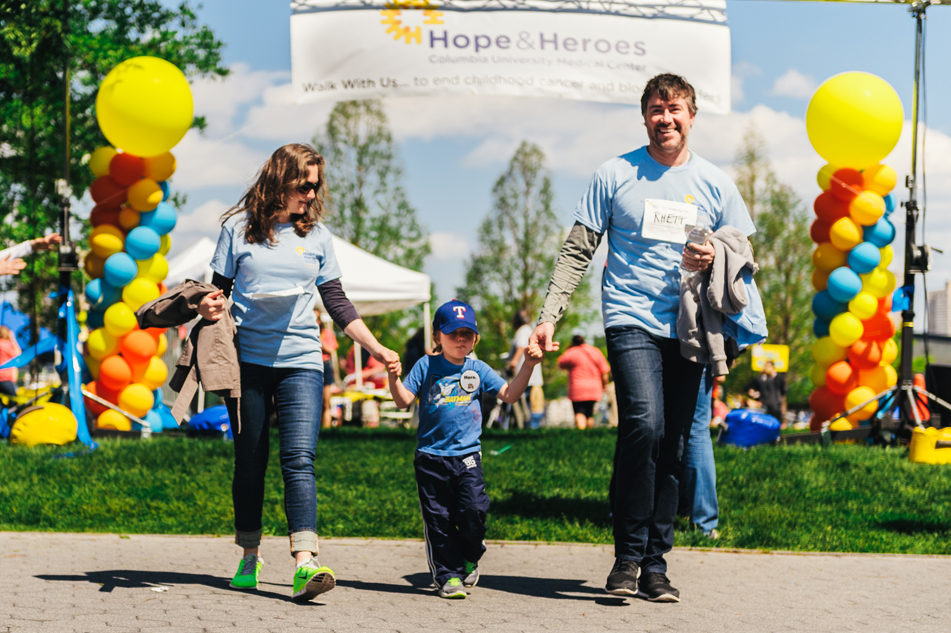 Event Detail
May 17, 2015 | Pier 84, NYC | Check In: 9:00 AM Walk Begins: 10:15 AM
New Location!
The Hope & Heroes Walk has a new location for our sixth year. We're moving 10 blocks down the Hudson to Pier 84, one of the Hudson River Park Trust's premier event spaces. Not only will we have plenty of fun on the pier, we will be able to walk down and back without crossing the West Side Highway! This will be a change for the better, especially for our families with young children.
But Our Goals Are Unchanged.
In just five years, the Hope & Heroes Walk has become a cornerstone of our efforts to support children with cancer and blood disorders at Columbia University Medical Center. Since it began, the Walk has raised over $1 million dollars for the patients, programs, and research at the Division of Pediatric Hematology, Oncology & Stem Cell Transplantation.
It's easy to get involved and most people come year after year, amazed at what this community of people can do when we all get together to make a difference. So register today, either by starting your own team, joining a team, or participating as an individual.
ONLINE REGISTRATION IS NOW CLOSED. But you can register onsite at the Walk, starting at 9:00 AM on Sunday. See you there!




Looking for a team? Click here.
Already registered? Login here.



Already logged in? Visit your Participant Center.
Of course, we're here to help whether you're returning to the Walk or joining us for the first time. Call us at 1.855.HNH.Walk or send an email with any questions.
Take a look at the beautiful day we had last year!
Donate:
Find a Participant or Team:
Progress Towards Our Goal!