FUNDRAISING TIPS

2017 will mark our eighth year hosting the Hope & Heroes Walk and we are looking to set new records! You can help us to reach our goal.
If you are a returning walker, challenge yourself (or your team) to set a higher fundraising goal than last year. If you are a new walker, we suggest you set a goal of at least $200.00. You can always increase your goal later on.
Need help getting started? No worries! We have a simple formula to get your team members (and yourself) moving toward your goal in less than a week.
| | | |
| --- | --- | --- |
| | | |
| Day 1 | Sponsor yourself | $25.00 |
| Day 2 | Ask 5 family members for $10 each | $50.00 |
| Day 3 | Ask 10 co-workers for $5 each | $50.00 |
| Day 4 | Secure $25 from 2 businesses you frequent | $50.00 |
| Day 5 | Ask your boss to support your efforts | $25.00 |
| | | |
| Total | | $200.00 |

For more resources, check out our Tools You Can Use page. It's loaded with information, forms and guides to help you raise awareness & reach your team and personal fundraising goals.
---
Keep the momentum going by sharing these tips with each of your team members:
Tip 1: Set A Goal
Your goal is there not only to help track your fundraising, but to encourage others to donate - everyone loves being a part of achieving success! We encourage every new walker to set a starting goal of at least $200 - if you have participated before we suggest setting a goal larger than last year. It's important to remember that as your fundraising grows, so can your goal. We always recommend continuing to raise your goal so that everyone knows that their donation is still needed!
Tip 2: Use Your Personal Fundraising Page
Once you register, you will automatically be sent an email which will link you to your online fundraising page. This tool is a great way to ask your family, friends & colleagues to support you. Share your personal story on why you are involved with the Hope & Heroes Walk and personalize your page by adding text, pictures, videos and blog posts. You can share it via email with everyone you know. See the Hope & Heroes Walk tutorial guide for more information.
If you're already registered, login to your Participant Center to get started.
Tip 3: Go Social
Share your participation in the Walk - along with a link to your Personal Fundraising Page - on Facebook and the other social networks you engage with. Tell your friends and followers what you're doing for Hope & Heroes and encourage them to donate. Also, remember to stay tuned to Facebook, Twitter and Instagram to find out about contests, news and more!
Need more help? Try our Social Media Tip Sheet.
Tip 4: Write Your Message.
Letters are another great way to raise funds and let everyone know that you are walking. Letters can also be used for more than mailing - you can post them on message boards, drop them in a neighbor's mailbox or even carry them with you to share with people you meet. If you are a returning walker or team captain, include a photo from last year's walk and mention the amount of money raised. Download our sample letter (PDF | Word) for ideas.
Tip 5: Talk About It.
Fundraising isn't just online - it can be a part of conversations you have every day with family, friends, co-workers, classmates, neighbors, etc. You may be surprised at how many people will want to support your efforts if you give them a chance. Share your connection to the Annual Walk at coffee breaks, happy hours, book clubs, church groups, sports games or online group chats. Never miss a chance to let people know "why" you support the Walk and "how" they can support you.
**Having trouble figuring out where to start your outreach? Our Memory Jogger is the perfect way to get started - make sure to keep it handy!

---
Incentives and Rewards

Now that you have your fundraising goals all set, it's time to talk incentives!

Incentives are a great way to motivate you and your team to raise the most money possible. Remember, all funds raised during the Walk goes to support Hope & Heroes and the life-saving work on childhood cancer and blood disorders at Columbia University Medical Center. So every dollar helps!
This year, you can win the trip of a lifetime! Through June 1, for every $1,000 you raise, you earn a raffle entry into a drawing to win a trip to Cabo. Enjoy seven nights of luxury accommodations, including endless pools and world class restaurants, at a luxury resort of your choice.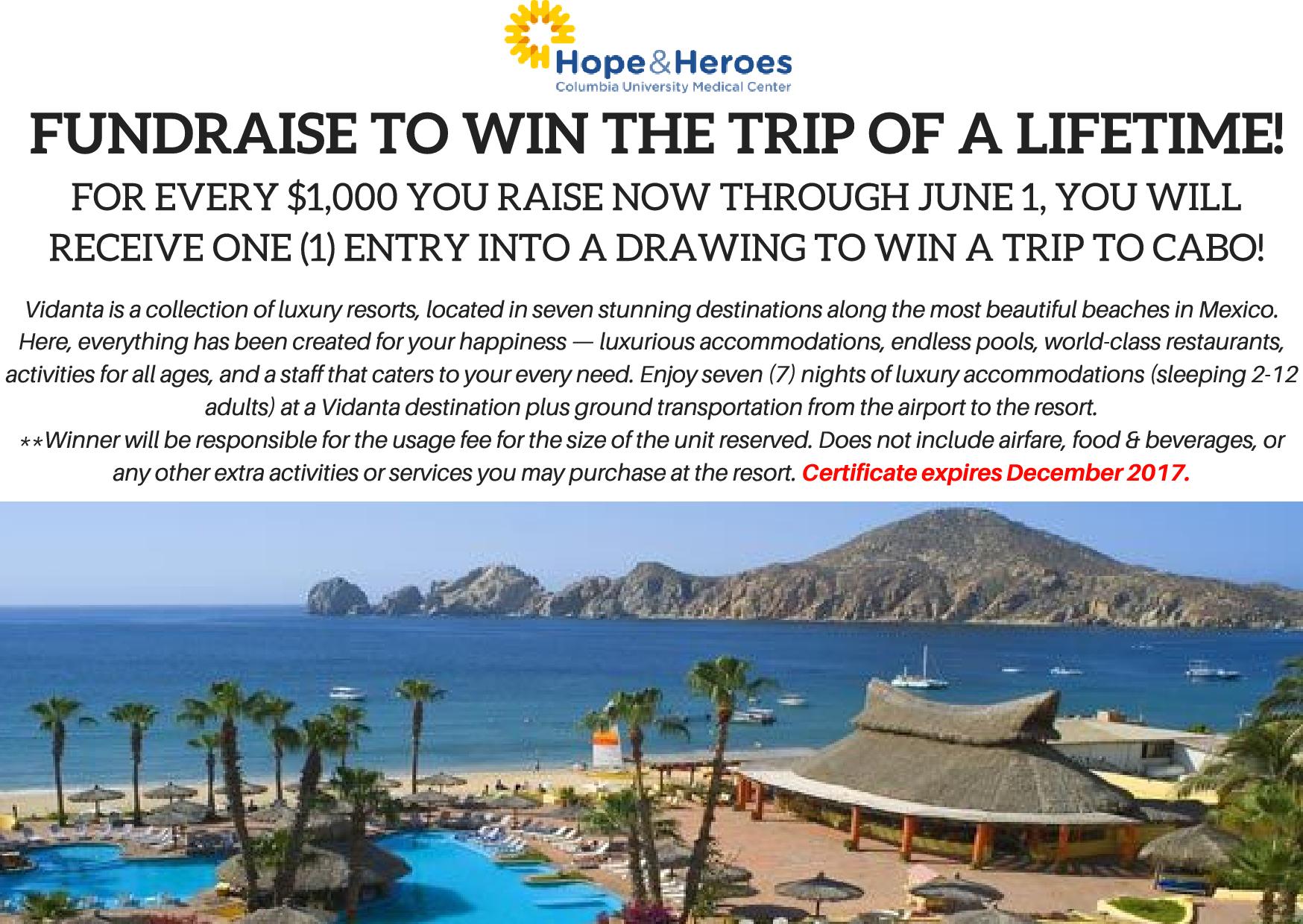 Hope & Heroes also offers incentives and rewards once fundraising "milestones" are reached. Check out the great swag available to every person that raises the amounts below:
| | | |
| --- | --- | --- |
| | | Raise $100 (by Walk day) and receive an official Hope & Heroes Walk T-shirt. |
| | | |
| | | Raise $250 - $499 and receive this custom tumbler with lid & straw. |
| | | |
| | | Raise $500 - $999 and receive this custom lunch tote & sandwich holder, as well as the custom tumbler. |
| | | |
| | | Raise $1,000 and receive this custom umbrella, as well as the custom lunch tote, sandwich holder & tumbler. |
Need more help? Feel free to contact us at Info@HopeandHeroesWalk.org or 1-855-HNH-WALK (1-855-464-9255).